Testimonials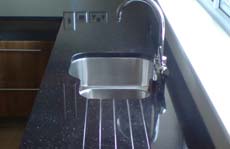 You fitted galaxy worktops to our kitchen on 6th February and I would just like to say how pleased we are with them. They are much admired by all our friends. As a builder myself, I am often asked for recommendations and will certainly pass on your details. In the meanwhile I have given your number to David…, kitchen fitters, who will be in touch with you in the very near future. It was mentioned that I would receive an introductory commission of 10% of any work passed to you, who knows we could be doing business in the future!!
Gordon, Richmond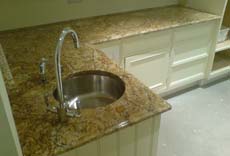 Thank you very much for your excellent help and advice. We are delighted with the result! Best Wishes
Isabella & Richard, Surrey, GU1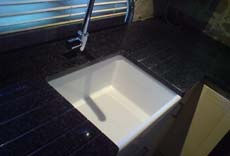 Dear Agatha, Just a quick note to say that our new worktop looks fantastic! I have to say that it was a pleasure to deal with yourself and your colleague – you made everything clear and uncomplicated and you were so pleasant whenever I contacted you.I wish you both a very happy Christmas and a prosperous New Year! With kindest regards,
Sue Dobson, London SW4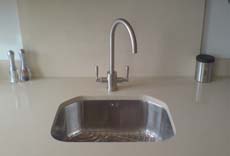 I just wanted to write to thank you and your colleagues for a job well done. You and your team have been the epitome of efficiency and on the job your representatives were courteous, professional and friendly. I would have no hesitation in recommending you and your team to others.
Kind regards
Simon, London, EC1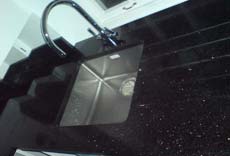 ... Again many thanks for the worktop; its great to have such a surface to work on and it has been very much admired...
The worktop has impressed a few friends too and some of them will also contact you in a month or so…
Hope all is well,
Best wishes to you both
Peter, London N4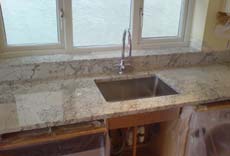 I would just like to say that I have been very pleased with the service I have been provided. You have been very helpful and efficient, and your colleagues have done a very good job of my kitchen work top. I shall certainly be recommending your company to friends.
Best wishes
Mrs Marker, London W1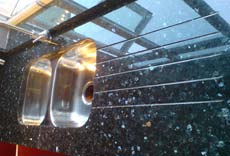 Thanks for the quick response and quality of work; I didn't expect everything to be completed within 3 days of my order and was very impressed with your team and approach.
Regards
Craig, London, E16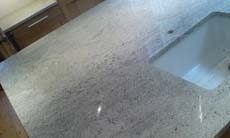 Just to let you know that the granite installation has been completed today to our full satisfaction. Everything looks very nice, and the guys apparently did a very good job, worked very carefully and the result is very nice to look at. I hope we can use your company again when we start re-doing our bathrooms and we'll be happy to recommend you to other friends who do refurbishments.
Best wishes,
Mrs Smith, Swiss Cottage, NW3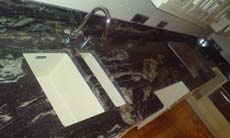 Apologies for not writing before this ... but better late than never!
Just wanted to say how thrilled we are with the above worktop, installed end of June. The granite is really beautiful, just what we wanted, with a dramatic pattern and gold flecks which sparkle in the sunlight.
Thank you so much for all your help which is greatly appreciated.. we will certainly be recommending you to other people.
Very best regards
Frank and Sue, Canterbury,Kent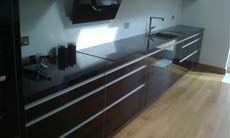 Dear Sirs
I wanted to write to express my heartfelt thanks to all at London Granite for the excellent service that we have received from you, both in respect of the beautiful black granite in our kitchen last year, and in respect of the stone worktop recently supplied for our bathroom. My husband and I are very grateful for your professionalism and courtesy and for the effort that you have made to provide us with the perfect granite in a very timely fashion. Everyone we dealt with was very personable and all appointments were kept to time - very rare from what we have seen of other companies! You have exceeded our expectations, so thank you to all involved.
We will certainly be returning to London Granite should we need any granite or stone in the future, and won't hesitate to recommend your company to our friends and aquaintances.
Wishing you all the best.
Kind regards
Karen, Radlett, Hertfordshire
Granite in the Kitchen
Granite in the kitchen is a sophisticated, elegant, durable option for countertops and island sections that are resistant to pressure, heat and moisture that can damage other surface materials. Granite worktops are made of the most hard, dense and least porous stone making it perfect for use where food and liquid will be in continual contact with the surface area. This stone has a natural beauty with unique patterns, designs and colors in each slab.
Every day, homeowners spill (oily, greasy and sticky) liquids and foods in their kitchens. When inferior surface materials are used in the kitchen, they can easily crack, leading to holes and crevices. Over time, the food and liquid residue can accumulate in the cracks, holes and crevices leading to bacteria, mold or fungus growth that can be very dangerous if it is ingested. Solid rock surfaces are perfect for kitchens because they are thick, durable and won't break easily.
Wooden countertops have a natural beauty but can be scratched, cut and dented. Eventually, water will damage wood, seeping into the porous material and rot. Minute splinters, fragments and saw dust can easily become dislodged and end up in food. Wood also stains easily requiring resurfacing to return it to its original state.
Plastic synthetic worktops don't wear or age very well, slivers, chunks and fuzzy debris can be dislodged from the surface when it is used as a cutting board. With frequent use, liquid and food residue collect in crevices leading to stains and unsanitary conditions. Over time, plastic surface becomes uneven and rough, oftentimes, needing extensive sanding to repair the appearance.
Formica countertops aren't very hard; they can be scratched, cut and dented easily. Stainless steel can be scratched, dented and rust with periodic usage. Ceramic tile has grout used to connect the individual pieces; bacteria mold and food debris can accumulate in these areas leading to possible hazardous infections.
Granite has a mixture of quartz and other materials that have been compacted tougher at very high pressure and high temperatures deep inside the earth. In this realm, water is in vapour form, so this stone has a natural propensity for liquid to roll off or bead up. These rock slabs have a solid, crystalline look that is scratch-resistant, dent-resistant and water-resistant.
Homeowners with stone countertops don't need to worry when chopping fruits and vegetables or rolling dough on these high-quality surfaces. This is a stone that is easy to clean as water flows naturally while cleansing the surface. As such, these surface worktops are well-respected, noted for premium quality due to their vast multi-purpose functionality.
This natural igneous rock when quarried, cut and finished properly develops a smooth, glossy, polished surface with unique patterns. This stone comes in many colours including speckled, mottled and streaked varieties: white, blue, red, green, tan, gray and black. It is a beautiful material that adds colour, texture and design to any kitchen.
These are great looks that fit in with any home decor. It is fine- to course-grained, nearly indestructible and has a heavy, solid depth. This hard surface won't blister, chip, crack, ding, or scratch. Only diamonds are harder.
This beautiful stone has key advantages when used in the kitchen. While other material surfaces might burn when hot plates, pots or pans are placed on them; this rock surface won't. This stone countertop communicates class with its brilliance, elegance and durability. Its unique looks complement wooden cabinetry. The appearance of these rock stone won't dull; they have a permanent strength.
Good craftsmen can add single or double sinks fitted inside slabs of rock to create a solid, inviting work area for the chef of the family. There is a long history of using rock slabs in the home because of their powerful resistance to heat. Many times homeowners carelessly place burning hot items too close to plastic or wood things, seeing them melt or even burn. With rock surfaces, homeowners have reduced their worries because they know that stone surfaces are highly resistant to heat, moisture and even insects.
Special coatings can make rock surfaces even more resistant to hot grease or oil. Regular cleaning can be done with soap, warm water and a moist towel. Another option is the use of natural stone cleaning product.
This top-of-the-line material is used by many sophisticated homeowners, contractors and architects. Rock countertops quickly add value to homes. Enjoy the sophisticated, world-class look of rock island counters in your home. Create a more hygienic atmosphere with affordable, premium quality granite worktops in the kitchen.