Quality Granite Worktops
A Luxury You May Have Thought You Couldn't Afford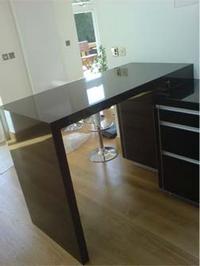 Quality granite worktops offer a variety of features that make installing them in your home not just a worthwhile investment but an ultra-smart lifestyle choice. Our premium worktops offer beauty, durability, easy care and maintenance, versatility and value.
Beauty Begins with Quality, Care and Craftsmanship
At London Granite ltd, the beauty of your worktop begins with top-quality granite that has been carefully inspected and hand-selected at the quarry. This process is designed to ensure that the granite used for your worktop is among the finest available. Premium quality granite will have good colour balance, an even veining pattern with good flow and movement and no imperfections such as hairline cracks or micro-fissures that would lower its aesthetic value.
The next step in creating the most attractive quality granite worktops is careful preparation of the granite by cutting it into slabs and polishing it. Some indicators of good machine calibration are an even thickness within a slab and consistent thickness between individual slabs. This careful craftsmanship lets you know that your worktop will provide the sophisticated look and classic impression you are seeking for your home. An even polish will top off the preparation process, assuring you of quality and giving your granite sections high visual appeal.
The final step of the process, careful installation, which includes adequate support of your quality granite worktop's weight, will further ensure the lasting beauty of the finished product. Your quality installation will also involve using granite slabs that have been cut from the same block whenever possible. This will ensure a uniform hue between slabs used in the same project and provide a natural flow and movement of the veining pattern across multiple variegated slabs. This match-up is particularly important at the seams where two variegated slabs meet and is one mark of a quality granite product and professional installation process.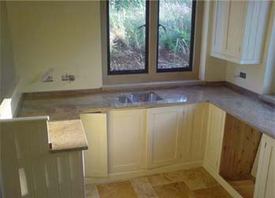 Other Qualities of Our Premium Granite Worktops
Durability
Our quality granite worktops offer enhanced stain- and scratch-resistance over and above that already inherent in the natural stone. This is due to the careful sealing process they undergo. These top-of-the-line worktops are extremely difficult to chip, crack or scratch, and they last longer than virtually any other worktop material. After installation, our premium worktops provide many years of practical, trouble-free service.
Easy Care and Maintenance
The only thing you'll need to do to keep your worktop looking lovely and performing well for years to come is to wipe it clean with a damp cloth. Periodic resealing—a simple process you can complete yourself if so inclined or have professionally done—will ensure that your worktop remains impervious to water and other liquids over the long term.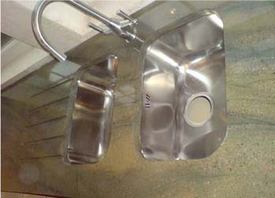 Versatility
Premium grade granite for your quality worktop is available in an exceptionally wide range of colours, looks, grains and weights to blend perfectly with any existing kitchen décor or build an entirely new décor around. Some colour choices include various shades of white, grey, black, blue, red and gold, in plain, speckled or variegated varieties. Various finishes are also available to fit your personal taste, as well as the style of your home. For example, smooth, high-gloss finishes will perfectly suit the modern-style kitchen and rougher matte finishes will create a more traditional look.
Value
Our quality granite worktops not only increase the value of your home; they are a highly cost-effective long-term investment, since they provide luxury at lower cost than ever and last so many years.
The next time you remodel, consider high-quality granite for your kitchen worktops. Then, let us show you just how inexpensive owning a luxurious, premium-grade granite worktop can be.